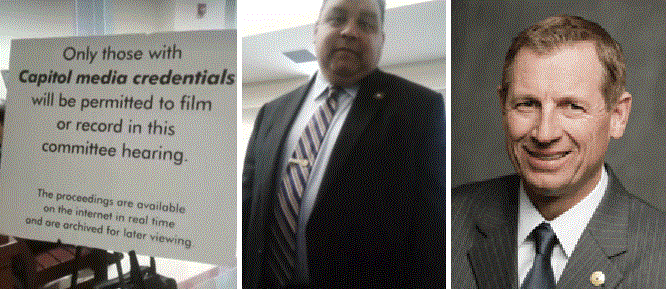 The sign announcing the illegal policy, David Sauceda, the sergeant-at arms who should know better, and Rep. Byron Cook, who thinks himself above state law.
In keeping with its support of transparency in government and the Open Meetings Act, Norred Law has been honored with the opportunity to represent Amy Hedtke in her upcoming suit against Byron Cook for his unlawful removal and arrest of Ms. Hedtke from a meeting of the House Committee on State Affairs on March 22, 2017.
THE OPEN MEETINGS ACT
Ms. Hedtke was relying on the Texas Open Meetings Act (Tex. Gov't Code § 551.023) for her right to sit quietly at a chair in the gallery and livestream the proceedings:
Recording of Meeting by Person in Attendance:
(a) A person in attendance may record all or any part of an open meeting of a governmental body by means of a recorder, video camera, or other means of aural or visual reproduction.
(b) A governmental body may adopt reasonable rules to maintain order at a meeting, including rules relating to:
–(1) the location of recording equipment; and
–(2) the manner in which the recording is conducted.
(c) A rule adopted under Subsection (b) may not prevent or unreasonably impair a person from exercising a right granted under Subsection (a).
We are aware that there were no "reasonable rules to maintain order" adopted by the committee. Nor was there any indication that Ms. Hedtke was acting disorderly – there is video of the entire event that are publicly available on social media and available at https://www.fundedjustice.com/AmyHedtkeRecordingDefense.
NOTHING LIKE MAKING UP THE RULES AS YOU GO ALONG!
When contacted, Rep. Cook's office claimed that the Texas Constitution gives him the power to make rules regarding who can record at committee meetings, trumping the Texas Open Meetings Act! Rep. Cook believes he can decide to only allow those with media capital credentials to record the committee's proceedings without any obvious authority.
We cannot find any provision of the Texas Constitution that allows Byron Cook to act dictatorially and unilaterally as a committee chair regarding recording rules.
Amy Hedtke had every right to record Rep. Cook's committee meeting, and as part of our "White Hat Institute" goal of supporting good government, Norred Law PLLC intends to file suit this month. The suit will ask the Travis County District Courts to require Rep. Cook to follow the Texas Open Meetings Act during the coming Special Session of the Texas legislature that begins July 18, 2017.
We hope to file the suit before the Special Session begins, so that the Rep. Cook and all the other office holders who think that they are a law unto themselves will be forced by the courts to recognize that even legislators have to follow rules.
WE NEED YOUR HELP.
Because this is a White Hat Institute case for Norred Law, PLLC, we have chosen to represent Ms. Hedtke and provided favorable fee treatment and will endeavor to raise funds to pay the cost associated with the effort, contributing to it as we can. A legal defense fund has been set up for Ms. Hedtke, who was arrested and facing criminal charges for her temerity. Please visit the fundraising site here to contribute.