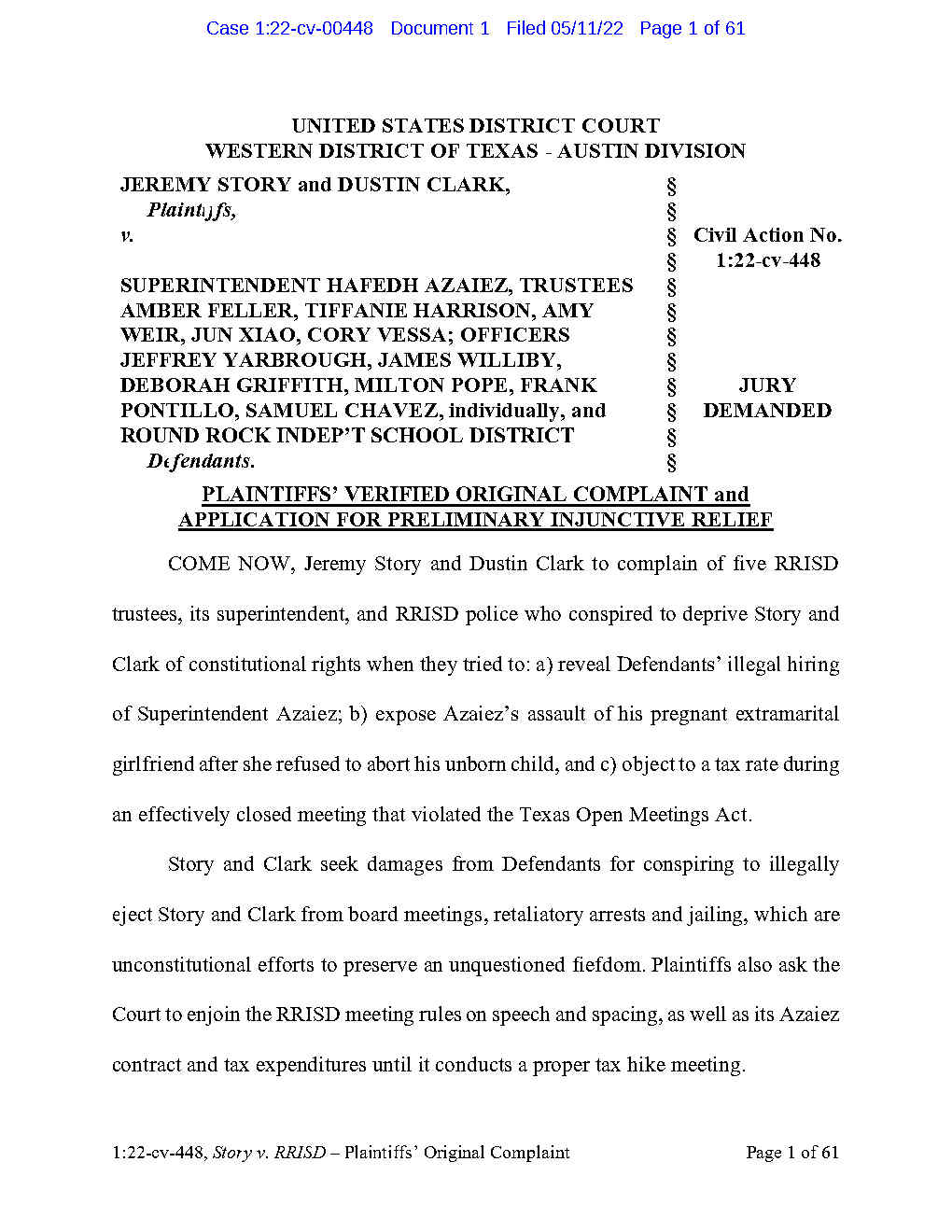 We don't have to fight about the right to petition our government very often. It's a right guaranteed by the First Amendment, and even the worst office holders usually are smart enough to at least pretend to listen for a few minutes. But here's a case where that's not true.
In fact, Round Rock ISD is totally out of control, and has been for more than a year. When Jeremy Story and Dustin Clark started pushing back and exposing Superintendent Hafedh Azaiez as an adulterer who assaulted his extra-marital girlfriend when she refused to abort the child resulting from their illicit relationship, RRISD Board President gathered four others on the RRISD Board to protect their new employee who they hired while deliberating in violation of the Open Meetings Act.
If this series of unfortunate events was in a television series, you'd turn it off as being too unrealistic, but here we are.
This suit seeks to recalibrate RRISD by requiring it to stop using COVID-19 as an excuse to limit the number of people who can effectively be at a board meeting. As the suit tells the story, the board reduced the number of people allowed in a room with a rated capacity of 375 to 18...though right next door, others were operating normally.
This suit also seeks to de-contract Superintendent Azaiez and let him go on down the road with a minimal amount of pain to all involved. No superintendent of any school should be trying to get by with an adulterous lifestyle. Worse, the RRISD Board is aware that Azaiez assaulted his former paramour when she refused to abort the baby resulting from their affair, and STILL hey are trying to protect this guy.
But wait...we're not done, as the RRISD Board President Amy Weir misused RRISD police to arrest Jeremy and Dustin for "Hindering Proceedings" and "Disrupting Proceedings" because Jeremy asked for the opportunity to speak on Azaiez, and Dustin tried to tell the board that a tax hike meeting has to be open to the public. The two of them were arrested at their homes and kept in jail for a night.
Yes, this is the same five trustees who ganged up on Trustees Mary Bone and Danielle Weston for essentially not being woke enough a while back.
This suit is aimed at voiding the Azaiez contract, seeks damages from the five RRISD trustees and school police who caused the false arrests, and enjoining the expenditures resulting from the illegal tax hike until such time as the board holds a proper meeting and vote on that issue. .
The full suit and appendix may be downloaded from HERE and HERE, respectively.
Norred Law is honored to be part of this effort, along with Stephen Casey.
- Warren