David Goins of WFAA lied to his viewing audience in his November 15, 2019 segment on use of nuisance laws to shut down Jim's Car Wash. This post serves as a supplementing correction to that segment, which was the result of WFAA's deliberate decision to omit the truth from that article in order to support a false narrative. Until Goins comes clean with an apology to his viewers and Dale Davenport, his viewers should adopt the presumption that his news pieces are untrustworthy prevarications designed to carry water for the Dallas City Council.
The segment remains online here. During those nine minutes, Mr. Goins portrays himself as a person who wants to examine data in a straightforward way to determine whether the use of the state's nuisance law to close down businesses is working to abate crime in Dallas.
Specifically, Mr. Goins found that eleven reported violent crimes took place over the four months before July 2019, contrasting them with the single violent crime report in the four months following July 2019. [1]
Viewed without context, those numbers do seem to indicate that the closing of Jim's Car Wash did, indeed, serve to abate crime in the immediate area. However, there are a few key facts that throw the data cited by Mr. Goins into a different light:
Jim's Car Wash was shut down and fenced off in early June of 2019, not in July 2019, as one might reasonably surmise from an examination of the orders issued by the court. Dale Davenport chose to shut down the business immediately following the court's temporary injunction hearing on June 6, 2019 rather than waiting for a deadline in July caused by the City Council's change in zoning. The car wash was therefore closed for one of those four months during which eleven violent crimes were reported in its vicinity.
However, the most important factor causing the decrease of crime was the dozens of officers who showed up when sent by Governor Abbott after Dallas sought help. As even the Dallas Morning News has reported, Texas State Troopers started reinforcing Dallas PD shortly after the car wash closed. The Dallas Morning News quoted one Park Row resident as saying he had "seen state troopers on every major thoroughfare in South Dallas."[2] I am told that more than 10,000 citations have been written.
Thus, a more reasonable conclusion based on this information is that the reported drop in crime is most likely the result of this increased police presence, not the closing of one car wash on one corner of a notoriously crime-afflicted area. Here are a few pictures of police during that time period, all taken from the car wash property or near it: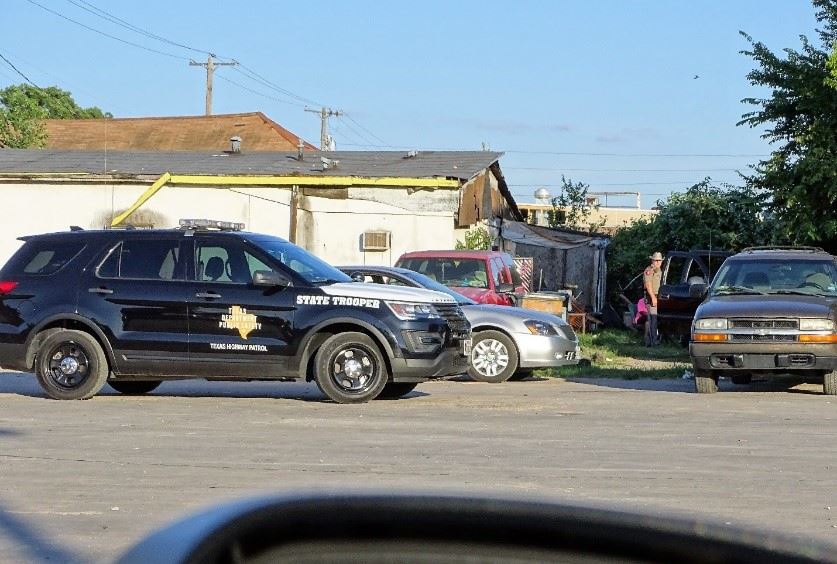 These and many other pictures were provided as evidence in a recent hearing on this matter, and Dale Davenport, the operator of Jim's Car Wash told David Goins the entire story, from start to finish, taking the better part of an hour. Goins was well aware of the police presence and its impact on crime in the vicinity.
Also omitted from the WFAA segment was the fact that the Dallas Police placed a camera system on the car wash property. This action was taken with permission of its owner, Dale Davenport, who has been seeking police help to handle crime on MLK Blvd for roughly two decades.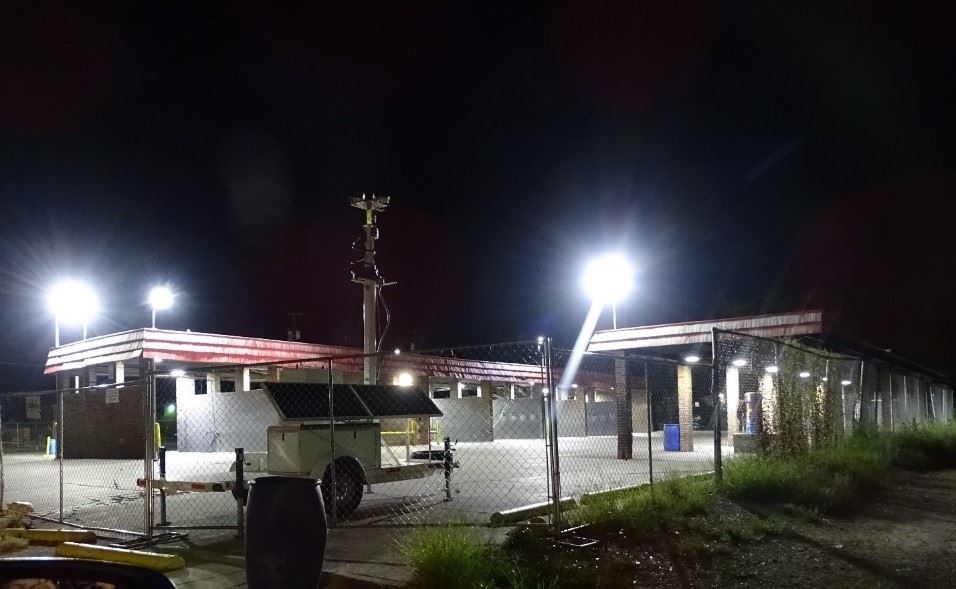 But we don't have to wonder if crime went away; even one of the Dallas officers who took the stand admitted that the crime has merely moved since the police began cracking down on this area: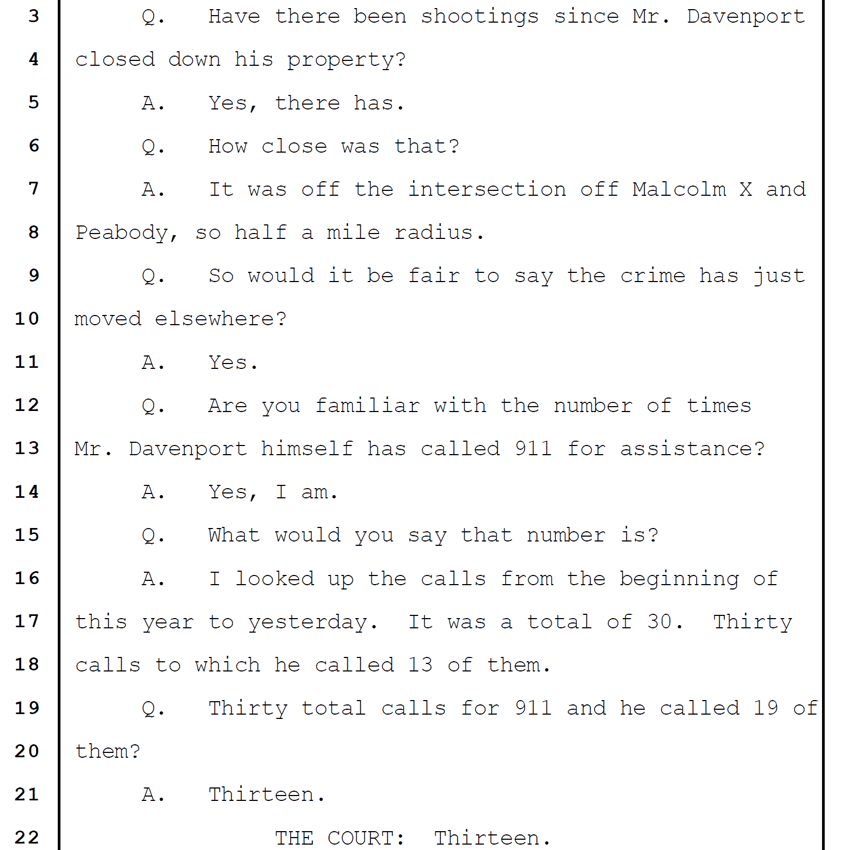 The above comes from the transcript of the June 21, 2019 hearing on Dallas's Application for Temporary Injunction (lines 22:3-21), during which time the City of Dallas was arguing that Dale Davenport was not taking reasonable measures to abate crime and his car wash is responsible for all crime and should be closed and multiple security guards present at all times.
Lastly, Goins failed to start at the beginning of the analysis. Before deciding whether closure of Jim's Car Wash had been effective, he should have asked whether Jim's Car Wash could legally be closed under the state's statute. He starts the story with a solid statement of the public nuisance law, Section 125.0015 of the Texas Civil Practice and Remedies Code, asserting:
It's a state law called the "common nuisance" law. To get that label, the property must be the site of habitual "criminal activity", the owner must "knowingly tolerate" the crime and the owner "fails to make reasonable attempts" to reduce crime.
But with that solid start, Goins never asks himself if Davenport has failed to make reasonable demands. On that issue, Davenport is on solid ground. Other courts have dealt with these kinds of issues before, and no one could say that Davenport has failed to make reasonable attempts to reduce crime, including calling 911 for police that never come. As shown above, a Dallas police officer reported that Davenport was the caller in 13 of the 30 phone calls for police help. Davenport also was the driver for a new tax to fight crime in the area, and asked for meetings with police to develop ways to handle crime on MLK Blvd.
Davenport pays property taxes for police. He also pays an additional tax to handle crime and spruce up his commercial area. But Dallas filed suit to force Jim's Car Wash to hire two security guards to be on site at all times, as though area crime is the fault of the car wash, instead of a lack of police, now requiring Davenport to pay a third time for the police protection that most people in civilized parts of the world expect as part of their normal existence in a city.
It could be worse. When Judge Moyé granted the City's request and ordered that Davenport have two full-time security guards, the Court of Appeals promptly reversed that over-the-top ruling. But that hasn't slowed the City of Dallas down from continuing to malign one of the few small businesses in the area and press on with complete war on multiple fronts.
And, of course, none of that matters to David Goins and WFAA, who were given all of this historical information, and decided to create a false narrative for the viewing public by omitting obviously dominant reasons for the drop in crime in Dallas, choosing to sell the benefits of big government antagonism to small business in crime-ridden areas of Dallas, where the Council would rather put the blame on anyone other than themselves.[3]
---
[1] Using the Dallas Crime Map, I was unable to replicate the same numbers that Goins reported, though crime did drop precipitously - just not for the reason that Goins reported.
[3] The police force of Dallas is about 25% smaller in real numbers than it was a decade ago, in spite of population growth in the City of Dallas.